Raksha's philosophy on service is resident-focused. To provide exellence in elder care we continually advance our knowledge on the services, issues and concerns that are relevant to our residents. Together with the support of a resident's care network, including family, physician, friends, and community associates, a customized care plan with specialized programs are developed to meet the individual needs of a resident.
Raksha's Service Philosophy is based on the two guiding principles: Kindness and Patience

Kindness

is a strength, we don't have to make ourselves loving, we have only to remove unkindness from our speech and from our hearts-- We thrive to provide this service to our residents.



Patience

: There are positive ways in which we improve the quality of our daily living. Our motto is "How can I be better tomorrow than I was yesterday." Patience is the core of goodness that is an essential part of our human personality-we thrive towards it.
Our services include: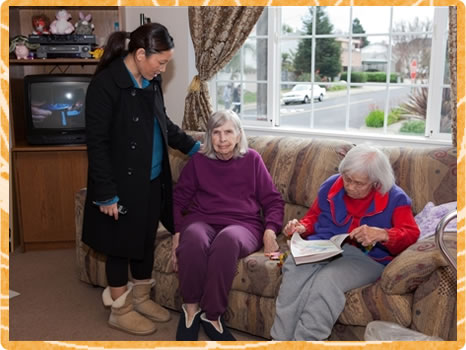 Complete assessment with development of customized care plan.
Delicious meals featuring the best produce, customized to meet each residents' needs and favorite tastes.
Companionship and social interaction
Onsite therapeutic massage
24 hour on-call physician
Certified care givers on hand, 24 hours a day
Assistance with all activities of daily living.
Assist with medication administration
Provide fresh, nutritious and quality snacks daily
Housekeeping and laundry services
Social activities, entertainment, and planned daily activities
Dementia care
Hospice care
Incontinence management
Transportation with escort to and from routine doctor appointments
Assist with medical and dental needs
Accommodations for short and long term stay